Recruitment for international students in Japan
Enrollment guide
We are accepting international students at Japan Institute of Culture & Economics by Gores Academy in JICE Inc.
In order to study in Japan, you need a visa. If you are planning to study more than one year, you can obtain a student visa.
Even if you are planning the learning period is less than half a year, you can enroll the class in a tourist visa or working holiday visa.
Enrollment guide
In order to study in Japan, there are various application documents you have to prepare and screening process.
I will do utmost help your application procedure as smoothly as possible.
Please feel free to talk to me if you have any problem.
Also, while you are in our school as a student, I will take good care of you.
Please think that I am your great brother in Japan.
We are looking forward to seeing you in Okinawa.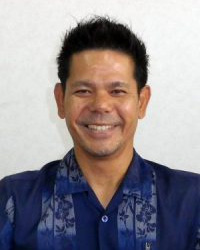 Manabu Shinzato
How to apply / How to enroll
For People who need a student visa
It takes about six months to obtain a student visa.
It takes time to prepare application documents for student visa and to be screened by Immigration Bureau.
| | Period for acceptance of Application | Scheduled issued date | Admission time |
| --- | --- | --- | --- |
| April student | September 1 – October 31 | Early March | Early April |
| July student | January 15 – February 28 | Early June | Early July |
| October student | March 25 – April 30 | Early September | Early October |
| January student | July 1 – August 31 | Early December | Early January |
Submit required documents (about 4 ~ 6 months prior to admission)

Submit "Application for Admission" and "Application Form for Student Visa".
Since the required documents are subject to the nationality of the applicant, please contact the local education agent or our school.

Application for immigration (Approximately four to three months prior to admission)

We will apply for a Certificate of Eligibility to the immigration office.
As passing the examination by the Immigration Bureau, a Certificate of Eligibility will be issued to our school about a month before admission.

Tuition fee-paying

Please pay the tuition fee etc. to the bank account designated by our school when the applicant's Certificate of Eligibility is issued.

Sending a letter of Certificate of Eligibility

We will send required docments to obtain the visa in your country when we can confirm payment of tuition fee at our school.
*For those who did the procedure through the local education agent, we will mail them to the agent.

Visa application (about one month before enrollment)

Please apply for visa to Japan by yourself.
Please submit your Certificate of Eligibility and necessary documents to the Japanese Embassy / Consulate and apply for a visa.

Enrolling in Japan

Once you have a visa, please purchase a ticket and let us know.
School officials are waiting at Naha Airport. (Airport pickup: free)
For those who enroll without the student visa but with another visa.
Students other than student visas can also enroll.
It is also possible to take short-term courses with tourist visas.
In addition, it is also possible for people who came to Japan already with settlement visa, family stay visa, spouse visa, working holiday or short stay visa etc. We will provide you with a plan that suits your needs. Please contact us first.
Submit required documents

We will check your visa and explain the procedures, so please contact us by phone or e-mail.

+81-98-869-8686
info1@gores.ac.jp

Preparation and submission of required documents

We will consult the admission period and the learning period.
Please submit the documents. We will send you an invoice for tuition fees.

Tuition fee-paying

Please pay the tuition fee etc. to the bank account designated by our school two weeks before the date of enrollment.
If you need a dormitory please pay the dormitory fee with the tuition fee.

Confirmation of tuition fee-paying

We will issue a letter of admission and a receipt if we can confirm payment of tuition fee at our school.

Admission

If you are from overseas, please let us know your date of arrival, flight number and arrival time of Naha.
If you need a pick-up from the airport, please write it on the application form. (Option)